Item No. 213730
[ K-POP ] BIGBANG - Big Bang`s Alive 2012 Making Collection (3DVD+Photobook+Sticker) (Repackage)
| | |
| --- | --- |
| Quantity | |
| Unit Weight | 0.9kg |
This product is out of stock or sell stops..
Bulk Order
Delivery
Payments
Returns
Guarantee
We offer discounts on bulk orders depending on the product. | See details
Varies for items shipped from an international location | See details
|
See details
200% REFUND
|
See details
[K-POP]
[DVD] Big Bang - Big Bang`s Alive 2012 Making Collection (3DVD+Photobook+Sticker) (Repackage)
Artist: BIG BANG
Information: 3 DVD + Photobook +sticker
:The Release Date : 2013.06.19
GOODS ID: 44463
-Region code : 3-> all( from mid of june. 2013)-Subtitle : Korean, English-3DVD -Photobook(2p) -Sticker(1p)-Size : 14.3 X 21.8 X 2.2 cmDISC 1 - BIGBANG'S ALIVE STAGE: YG ON AIR1.1-1: BAD BOY1-2: LOVE DUST1-3: BLUE1-4: FANTASTIC BABY1-5: AIN'T NO FUN1-6: WINGS2.2-1: BAD BOY2-2: LOVE DUST2-3: BLUE2-4: FANTASTIC BABY2-5: AIN'T NO FUN2-6: WINGS3.DISC 2 - BIGBANG'S ALIVE MUSIC VIDEO1.1-1: BLUE1-2: BAD BOY1-3: FANTASTIC BABY1-4: MONSTER2.2-1: BLUE+BAD BOY2-2: FANTASTIC BABY2-3: MONSTERDISC 3 - BIGBANG'S ALIVE BEHIND THE SCENES1.1-1: RECORDING1-2: PHOTO SHOOT1-3: DANCE ? FANTASTIC BABY / BAD BOY / MONSTER1-4: BIGBANG VISIT KOREA YEAR TVC MAKING1-5: BIGBANG X HYUNDAI CARD2.2-1 : TVC - INTERVIEW VER / TEASER VER2-2 : MAKING FILM2-3 : NAVER TVC FULL VER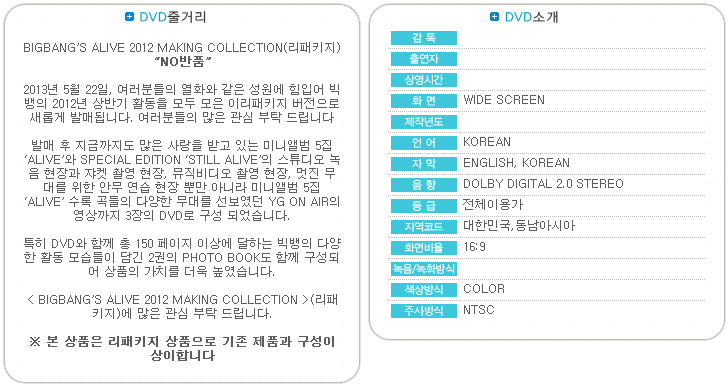 Notice
ㆍPre-orders will be processed and shipped in order of receipt.
ㆍPre-orders are subject to delay or cancellation, depending on the circumstances.
ㆍOrders containing pre-ordered tems will not ship until all items are in stock.
ㆍItem specifications and release date are subject to change, depending on the circumstances.
ㆍOuter case and plastic cover are for protection of the item.
Minor rips, tears or dents in packaging will not be considered as a reason for refund/exchange request.
ㆍAvailability of poster and other items is subject to change, depending on the circumstances.
Product Name

[ K-POP ] BIGBANG - Big Bang`s Alive 2012 Making Collection (3DVD+Photobook+Sticker) (Repackage)

Category

K-pop > DVD > DVD

Brand

K-POP

Items

SHIPPING

ㆍDelivery Time

ㆍRegarding shipping time, there can be differences by region and shipping situation.

ㆍBusiness days are Monday to Friday, excluding Korean National Holidays.

EMS
- Shipping Time : Within 3 - 7 business days.
- Available almost every country.

K-PACKET
- Shipping Time : Within 15 - 35 business days.
- it can be available when the total weight is below 1.7kg. (including package box and other materials.)
- Available almost every country.
- Please note : Missed the parcel cannot be claimed for damages.


UPS
- Shipping Time : Within 3 - 7 business days.
- Available almost every country.

TONDA
- Shipping Time : Within 8 - 12 business days.
- Available almost every country.

※ Please keep in mind that your order may see some delay in shipping process due to delay in receiving one or more items from our providers.

ㆍShipping process Products Providers → Korean Local Shipping → Koreanmall Warehouse → International shipping → Buyer

After measuring actual weight or dimension of the item, additional shipping fee may be required.
There could be a delay in shipping due to shipping courier or custom issue by countries/areas.


ㆍNotice

Koreanmall is not responsible for any import customs duties or tax fees. When a customer makes a purchase in Koreanmall, the customer is responsible for importing of the parcel into his/her country borders, because the customer becomes an importer. Customers policies vary widely from country to country. Please contact your local customs office for more information.

PAYMENT

To bring you the best online shopping experience, we offer multiple payment methods:
Credit Card
Accounts

EXCHANGE

/

RETURN

We want your shopping experience with us to be pleasant and risk-free!
If for some reason you change your mind about your order, you may return it in its original condition and packaging for a full refund, excluding return shipping costs.

If you have received a faulty or incorrect item, please contact us within 7 days with:
- The order number
- The faulty item's name and number
- A description of the fault (include picture/video)